Shopping Cart
Your Cart is Empty
There was an error with PayPal
Click here to try again
Thank you for your business!
You should be receiving an order confirmation from Paypal shortly.
Exit Shopping Cart
| | |
| --- | --- |
| Posted on October 13, 2011 at 2:03 AM | |
Fall is the season to watch for pest entry.  Over the last couple of months you have probably noticed spiders and other insects around doors and windows.  The next pest to worry about is rodents.  With the rainy season upon us, mice and rats are starting to look for places to move in to for the cold winter season.  Easy targets for rodents are sheds, shops, or garages because they typically have a lot of easy entry points and are less occupied.  Moreover, there are often edible items in these areas such as open bags of grass seed that people generally do not think of as a food attractant for rodents.  Of course, if rats and mice can find a warmer spot with more food sources, then they'll move right in there.  Is your house the next possible target?
It's a good idea when raking the leaves or cleaning up the yard to take a look around the house to make sure that there are no weak places that rodents may test as an entry spot.  Here are a few things to keep in mind as you check your home out: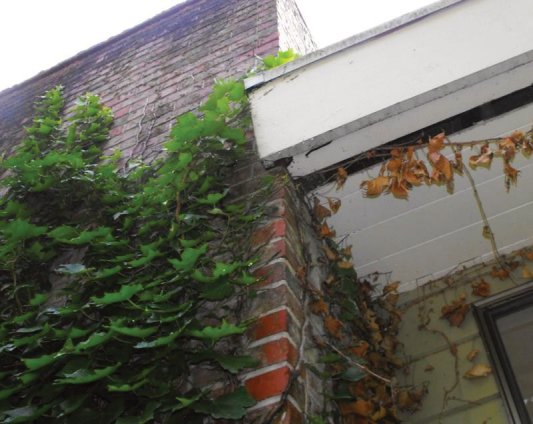 In this picture, you can see one of the biggest mistakes home owners make.  Vines may look nice crawling up the side of houses, but in most cases, the vines tear into soffit vents not only giving rodents the perfect entry point into the attic, but also giving them a nice ladder to climb in order to get up there.  For these reasons, it is important to keep all vegetation trimmed back from your structures in order to prevent pests from harbouring close and gaining access in to your home.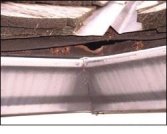 Entry points like this one don't happen over night.  In most cases the rodent or squirrel has been working on an entry point like this for 2-3 nights.  Holes like this one can usually be seen from the ground.  If you  find something like this one, it's a good idea to get up there and seal it up quickly or call Cridx right away to close the hole and inspect for interior signs of pest activity.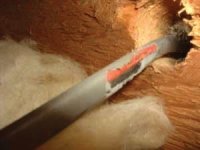 Once inside it doesn't take long for rodents to make their mark and put the safety of your home and family at risk.  Rodents have a habit of chewing wiring insulation and this frequently exposes live wires.  This is often a very dangerous situation particularly because the rodents also have gathered nesting materials around the same site.  As a result, a fire can be started from something that could have been preventable with a bit of proactive attention and a diligent response if necessary.  For these reasons, it is important to eliminate pest activity before expensive repairs are needed, your property, home and belongings are in jeopardy, or most importantly, your family's safety is in danger.
We hope these tips are helpful and we encourage everyone to take a bit of time to check their home and property out in order to prevent more significant problems from developing.  If you'd like to have CridX come to your location, we can conduct a full inspection for you for FREE and provide you with customized tips for your home or even perform the exclusion measures for you and implement a rodent program if you would like.  Just give us a call if we can be of any assistance at all.  We'd love to hear from you!  604-BAN-PEST (604-226-7378)
Categories: Rodents
/